Over the past two years we've heard a lot about nutrition, immunity and Covid-19
However, there was no data regarding nutrition and Covid-19 prognosis. Luckily scientific data from human intervention studies with Covid-19 patients has started to emerge, says Dr Conor Kerley (PhD, BSc), Founder and CSO at Phytaphix.
Curcuminoids
Curcuminoids are natural polyphenol nutrients found in the turmeric spice. There are three curcuminoids: curcumin, demethoxycurcumin, and bisdemethoxycurcumin. Eight publications regarding curcuminoid intervention among Covid-19 patients report safety and decreased Covid-19 severity, including:
Reduced mortality.

1,3,5,6

Reduced need for oxygen therapy, mechanical ventilation and hospitalization.

2,3,6

Reduced inflammation (TNF-α, CRP, IFN-γ, GM-SCF, and IL-1β,6,17,18,21,23).

1,3,6,7

Increased anti-inflammatory cytokines (IL-4,10, 35, TGF-β).

5,7

Upregulation in Treg cell frequency

5

and downregulation of Th17 cell frequency.

6

Downregulated expression of genes associated with Th1

1,3,7

(IL-1β and 18, TNF-α, TBX21), Th2

1

(IL-6 and 18) and Th17

1,6,7

(IL-1β,17,21, 23, GM‐CSF, and RORγt).
Upregulated anti-inflammatory gene expression

5,7

(FOX-P3, IL-10 and 35, TGF-β).
Increased lymphocyte percentage,

2,4,5,7

decreased neutrophils percentage.

7

Reduced D-dimer

3

and thromboembolic episodes.

1,3

Improved chest x-rays.

1,3

Less symptoms (fever, cough, sore throat, dyspnoea, myalgia, headache, anosmia, ageusia).

1-8
Indeed, a meta-analysis from January 2022 reported: 'curcuminoid supplementation led to a significant decrease in symptoms, duration ofhospitalization and deaths. Curcumin supplementation may offer an efficacious and safe option forimproving Covid-19 outcomes''.9
Vitamin D
Vitamin D is a unique fat soluble vitamin. Having completed my PhD on vitamin D and respiratory diseases, I've published 12 papers on vitamin D, including three double-blind, randomised, placebo-controlled trials, two meta-analysis', and I was a co-author in the only original vitamin D data from Irish Covid-19 patients.
A PubMed search with 'vitamin D COVID' returns 1,000 papers. The majority were initially opinion papers. Subsequent observational studies reported low vitamin D levels in Covid-19 patients, but this must be interpreted cautiously. Low vitamin D levels affect over 1 billion people!
In addition, reverse causation is possible whereby infection/inflammation can lower vitamin D levels. Further, there are confounding factors associated with both low vitamin D levels and Covid-19, e.g. season, obesity.
Recently, several vitamin D intervention studies in Covid-19 patients have been published. Some didn't report benefit, potentially due to adequate baseline vitamin D levels. Other trials in Covid-19 did report benefit, including seven double-blind, randomised, controlled trials.
An Indian trial reported significant reductions in fibrinogen and CRP as well as early viral clearance.10 Another reported significant reductions in CRP, LDH, IL-6, ferritin, and neutrophil/lymphocyte ratio.11 In a dose ranging trial, higher vitamin D led to significant improvements in cough and ageusia (loss of taste).12 A recent trial even reported decreased muscle damage with vitamin D supplementation.13
In addition, some interventions assess the effects of calcidiol in Covid-19 patients. Calcidiol is the liver metabolite of vitamin D and the form we measure, indicating vitamin D status. Early data from a Spanish pilot study, reported a pronounced decrease in ICU admission with calcidiol supplementation.14
The same team conducted a retrospective cohort study and reported that treatment with calcidiol was associated with an 84% significantly lower 30-day in-hospital mortality.15
Another trial reported a significant reduction in neutrophil/lymphocyte ratio as well as a trend toward decreased hospitalization and mortality.16 A retrospective study comprising all 15,968 Covid-19 patients hospitalized in Andalusia in 2020 reported that prescriptions for vitamin D and calcidiol were associated with 25% and 33% increased survival.17 Indeed, a recent meta-analysis of vitamin D supplementation in Covid-19 patients 'indicates a beneficial role of vitamin D supplementation on ICU admission of Covid-19 patients'.18
Magnesium and vitamin B12
Magnesium is a cofactor in more than 300 enzymatic systems, regulating diverse biochemical reactions. Multiple steps in vitamin D metabolism require magnesium as a cofactor, including vitamin D binding to vitamin D binding protein, 25(OH)D synthesis, 1,25D synthesis and vitamin D receptor expression/activation. Although magnesium is found in many healthy foods, poor diet has led to insufficient magnesium intake.
Vitamin B12 is a water soluble vitamin and cofactor for two enzymes. Vitamin B12 is typically consumed in sufficient amounts in omnivorous diets. However, poor absorption due to a variety of factors has led to widespread vitamin B12 insufficiency.
An early intervention study from Singapore, used vitamin D3 + magnesium + vitamin B12 in hospitalised Covid-19 patients and reported decreased severity compared to standard care.19
Ashwagandha
Ashwagandha is one of the most important herbal treatments in Ayurvedic medicine. A 16-week, controlled human, prophylactic study reported that Ashwagandha markedly and safely decreased Covid-19 risk.20 Further human intervention studies reported that multi-herbal preparations containing Ashwagandha led to decreased Covid-19 severity, including greater clinical improvement and reduced inflammatory biomarkers (hsCRP, IL-6, TNF-α),21 as well as quicker Covid-19 recovery compared to standard care.22
Previous research has demonstrated that Ashwagndha is safe and has immunomodulatory effects in healthy subjects23-26 and TB patients.27 In addition, a number of human intervention studies suggest Ashwagandha has anxiolytic effects and reduce symptoms of insomnia, fatigue, and depression.
Quercetin
Quercetin is a type of phytonutrient called a flavonoid. It's found in many fruits (e.g. apples), vegetables (e.g. red onions) and tea leaves. A 20-week, human, prophylactic study reported that a multi-component regimen, including quercetin, markedly and safely decreased Covid-19 risk.28
Three subsequent human intervention studies reported decreased Covid-19 severity, including:
Reduced symptoms (fatigue, fever, cough, sore throat, dyspnoea, myalgia, headache).

29,30

Reduced biomarkers of Covid-19 prognosis (LDH, ferritin, CRP, D-dimer).

29-31

Reduced frequency and length of hospitalization.

30,31

Reduced oxygen therapy and ICU support.

30,31

Reduced deaths.

30,31
The utility of curcuminoids and quercetin is limited by very poor bioavailability. Following oral intake, concentration in blood and extraintestinal tissues is low. This is likely due to poor absorption and rapid metabolism. However, piperine, a major alkaloid in black pepper, improves the bioactivity of curcuminoids and quercetin,32,33 by up to 2,000% in humans.34
Interestingly, black pepper is used in traditional curries alongside turmeric (curcuminoid source) and in traditional drinks alongside spices and tea leaves (quercetin source)! Only one of the eight Covid interventions with curcuminoids administered piperine.3 However, many studies now include piperine. In addition to enhancing bioactivity of other nutrients, piperine may exert physiological benefits in its own right.35,36
Interestingly, quercetin enhances the cellular uptake of curcumin and modulates its in vivo pharmacokinetics.37 Therefore, quercetin + curcumin are stronger together than either alone.38 However, the combination of curcuminoids with both piperine and quercetin has the greatest synergy and bioactivity.39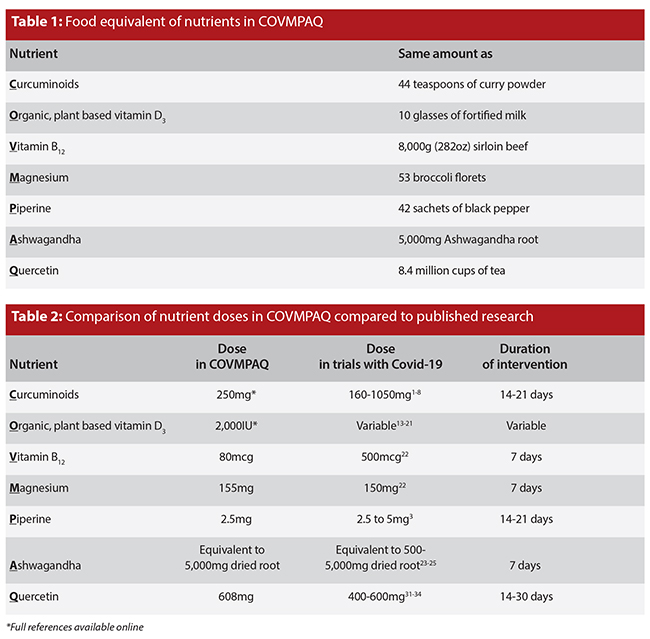 A nutritional approach to Covid-19?
Specific nutritional approaches to Covid-19 symptomology and pathology is attractive for both frontline healthcare works as well as patients for several reasons:
Readily available and simple.
Natural with no major side effects or contraindications.
Inexpensive with a high benefit to risk ratio.
Evidence based.
Safe for both adults and children.
No contraindication for pregnancy or lactation.
Can be used for prophylaxis as well as mild, moderate and severe Covid-19.
Can be used in those with and without comorbidities.
Based on my own award-winning research and expertise I founded Phytaphix in November 2020. Phyt means plant and Phytaphix is Ireland's evidence-based nutrition company. We focus on plant nutrients for immune health due to the burden of Covid-19 but also my diagnosis' of multiple sclerosis and allergic asthma. Our newest launch is COVMPAQ, a globally unique product containing:
Curcuminoids.
Organic vitamin D.
Vitamin B12.
Magnesium.
Piperine.
Ashwaganda.
Quercetin.
COVMPAQ has six health claims from the European Food Safety Authority:
Normal function of the immune system.
Reduction of tiredness and fatigue.
Normal psychological, muscle and nervous system function.
Normal energy-yielding metabolism.
Full references available online.