Why Krakow is worth visiting
Kraków (in English Krakow or Cracow) is a city located in southern Poland on the Vistula River – the second-largest city in Poland (after Warsaw) in terms of population and area. The former capital of Poland and seat of Polish kings. On one hand, it's small enough that you don't feel overwhelmed here. On the other hand, it is so rich in history, culture, nature, and tourist attractions that you want to stay here longer or come back again!
The uniqueness of Krakow has been recognized by UNESCO that placed the Historic Centre of Krakow on its list of World Heritage Sites: "The 13th-century merchants' town has Europe's largest market square and numerous historical houses, palaces and churches with their magnificent interiors". 
Finding accommodation in Krakow is easy. There are many hotels in different price ranges located close to the main tourist attractions as well as a wide selection of apartments for short rent if you prefer that option. 
There are plenty of restaurants in Krakow serving traditional Polish dishes, but also restaurants with international cuisine. As in other large cities in Poland, it is not difficult to find a child-friendly restaurant – with a special kids menu, a play area, changing facilities. 
Krakow sounds like a great family-friendly destination, doesn't it?
How to get to Krakow by train, by car, by plane
Krakow is located in southern Poland on the Vistula River. Krakow's location on Google map.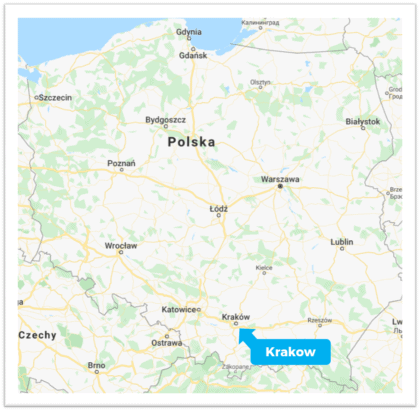 How to get to Krakow by train
The main railway station in Krakow is called in Polish Kraków Główny (location on Google map, train timetable). It's conveniently located in the center of the city, just  1 km from the Old Town. The most popular domestic connections include Warsaw (the shortest travel time: 2 hrs 30 mins), Wrocław (3 hrs 24 mins), Poznań (5 hrs 23 mins), Gdańsk (5 hrs 54 mins), Łódź (3 hrs 8 mins), Katowice (1 hrs 9 mins), Lublin (5 hrs 38 mins including 1 change), Toruń (5 hrs 32 mins).
International rail connections include Lviv, Prague, Budapest, Vienna, Graz, Berlin, Grodno.
How to get to Krakow by car
Krakow is well connected with other cities in Poland. Approximate (depending on traffic) travel time from: Warsaw 3 hrs 40 mins, Wrocław 3 hrs, Poznań 4 hrs 50 mins, Gdańsk 6 hrs 30 mins, Łódź 3 hrs 40 mins, Katowice 1 hrs 10 mins, Lublin 4 hrs, Toruń 5 hrs 10 mins.
How to get to Krakow by plane
Krakow's international airport (Polish name: Port Lotniczy Kraków-Balice, location on Google map, website in English) is located just 15 km from the Old Town. How to get from Krakow airport to the city center? By taxi (info in English about Krakow airport taxi service), Uber (you can get a price estimate for Krakow here on Uber's website), train to Kraków Główny main railway station in the city center (info in English about train connection from Krakow airport), public bus (info in English about bus connection from Krakow airport).
Attractions of Krakow Main Market Square and the Old Town
This is the heart, showcase, and essence of Krakow: the main market square (Rynek Główny, location on Google map) and the Old Town (Stare Miasto, location on Google map). All within easy walking distance!
In good weather, reserve a few hours to wander the cobblestone streets, discovering charming nooks, small streets where you can feel history at every step (Krakow market was the largest market in medieval Europe!).
The main market square is a pedestrian-only zone so kids can run free here (it's usually crowded so don't lose the kids!). A typical picture for this place is children playing among the pigeons which give the impression that they (the pigeons) have already seen everything and that nothing will scare them…;) Children will be charmed by the many street performers (e.g. "live statues"), you can often see a huge soap bubble show too.
The Old Town is packed with cafes and restaurants, many of them have lovely little open-air gardens.
If you need a quick snack – you will find carts selling a traditional Krakow snack on the market square or in one of the streets of the old town – a bagel (in Polish: obwarzanek). And if you want to spoil your children – you can buy sweet cotton candy (in Polish: wata cukrowa) on the street.
In the central part of the Main Market Square there is a large renaissance building – Krakow's oldest "shopping center" called in Polish Sukiennice (the Cloth Hall). Today, there are stalls selling traditional Polish jewelry, souvenirs or handicrafts, and on the first floor, there is a branch of the National Museum – the Gallery of Polish Painting and Sculpture of the 19th century.
When you get tired, a nice break is a horse-drawn carriage ride. A basic tour with horse and carriage (from the Old Town down to the Wawel Castle) takes about 20 minutes.
In one of the corners of the Market Square, there is St. Mary's Basilica, a gothic church dating back to the early 13th century (Bazylika Mariacka, location on Google map, website in English). We know that children usually do not react enthusiastically to visiting churches but in the case of St. Mary's Basilica, it is worth trading with them! To be in Krakow and not to see St. Mary's Basilica inside is like being in Paris and not to visit Notre-Dame Cathedral. St. Mary's Basilica is famous for its wooden altarpiece (after almost six years of restoration work, the altar was fully unveiled in February 2021) and unique stained glass windows.
The famous altar opens at 11.50 am and closes at 6 pm. To visit the part of the church closest to the altar, you need to buy a ticket (regular ticket 10 PLN, reduced ticket 5 PLN). Tickets can be purchased at the visitor service point (Plac Mariacki 7, location on Google map). You can also buy tickets to enter the church tower there.
It is worth taking a closer look at the taller tower of the church's two towers, topped with a late gothic golden crown. It is said to be the only tower in the world from which the bugle call (in Polish: hejnał) has been sounding every hour for over 600 years! The bugle call is played every hour, in the direction of the four corners of the world, by a trumpeter – a fire brigade officer. Don't be surprised when you hear that the bugle call melody suddenly stops… Legend has it that when in 1241 a foreign army approached Krakow, the guard on the tower started to sound the alarm. He managed to warn the city from attack, but an enemy arrow shot through him in half-time. This is why the bugle-call melody ends so suddenly – at the same moment that the guard stopped playing it in 1241.
If you are in the Old Market Square and it gets too warm or too cold, we recommend visiting the underground museum, which is located right under the market square! The museum is called Rynek Underground/Rynek Podziemny (website in English). During the archaeological excavations, many traces of the medieval history of Krakow were discovered here. A unique on a European scale, archaeological reserve with an area of 4,000 m² was established under the Market Square and in 2010, a museum and a tourist route were opened.
It's a modern museum with touch screens, films, projectors, audiobooks. There is also a playroom for children and an automated puppet theater showing the Legend of Old Krakow. 
As the museum is relatively small and very popular with tourists, it is worth buying tickets in advance (online tickets). Free admission for children up to 7 years old. Entrance to the museum through the Cloth Hall (Sukiennice) from the side of St. Mary's Church (Bazylika Mariacka). Audioguides are available in English, German, French, Spanish, Italian, Russian.
Photo source: Muzeum Rynek Podziemny
What if you feel tired of sightseeing and want to take a break? Take a look at the map of Krakow, you will notice that the Old Town is surrounded by a wide ribbon of greenery. This is a city park called Planty in Polish – a great place to get away from the hustle and bustle of the Old Town. The park is full of old trees that provide blissful shade, most of which are the dignified branching chestnut trees. You will find here playgrounds too.
Day trip from Krakow: the underground salt mine in the town of Wieliczka
The underground Wieliczka [vyel-ich'-kah] salt mine is one of the world's oldest (established in the 13th century) salt mines, located in southern Poland, only 14 km from the city of Kraków. It's available to tourists who can go down and admire underground lakes, unique statues sculpted in the salt, chapels, long corridors, and… underground church carved out of the rock salt.
The salt mine in Wieliczka (together with a nearby mine in Bochnia) is included in the UNESCO World Heritage List (more on UNESCO's website). UNESCO recognizes "hundreds of kilometers of galleries with works of art, underground chapels and statues sculpted in the salt, making a fascinating pilgrimage into the past".
To learn more about visiting the salt mine, read our post: What to do in the Kraków area: Wieliczka salt mine. The post includes detailed information about the salt mine, info about how to get to the Wieliczka Salt Mine, tips about tickets and skipping the line, practical advice to read before visiting the Wieliczka Salt Mine.
Other Krakow day trip ideas: the Ojcowski National Park, the Tatra National Park & Zakopane, "Energylandia" amusement park
The Ojcowski National Park near Kraków – caves, two castles, hiking trails
The Ojcowski National Park (Ojcowski Park Narodowy) is located 20 km north of the city of Kraków. It is the smallest of the Polish national parks and very charming. The Park covers the picturesque valley of the Prądnik River.
There are many caves and grottos in the area of the Park, two of which are open to tourists from April to October: Łokietek Grotto (Grota Łokietka) and Ciemna Cave (Jaskinia Ciemna). These caves are closed for the winter season due to the protection of bats. The Łokietek Grotto is the largest cave in the Park. Its length is 320 m. It consists of several corridors and 4 rooms. Visiting the cave is facilitated by wooden stairs and electric lighting. At the Ciemna Cave, you can see, among others, the reconstruction of the camp of the Neanderthals who once lived in the cave.
The Tatra National Park – 275 km of mountain hiking trails for beginners and for advanced climbers
The Tatra Mountains (Tatry in Polish) – the highest mountains in Poland, located in the south of Poland (110 km from Krakow) and protected as national parkland – are part of the Carpathian Mountains. The town of Zakopane is in the heart of the Polish Tatra Mountains, serving as a starting point for hiking trails for amateurs as well as experienced hikers.
The highest peak in Polish Tatras (Rysy) is 2,499 m but the mountains are rich in trails suitable for families with children (including toddlers), seniors and all those who love nature.
The Polish Tatras are covered by the Tatra National Park (Tatrzański Park Narodowy), offering 275 km of marked hiking trails of varying difficulty: from very easy to extremely demanding and equipped with devices like chains, buckles, and ladders. You will find in the Tatra Mountains many well-marked trails of easy to moderate difficulty – perfect for beginners, usually half-day to one-day tours. Hiking trails in the Tatras are marked with five colors: black, red, green, blue, yellow. The colors do not indicate the difficulty of the trail.
Energylandia – the biggest amusement park in Poland
"Energylandia" amusement park is located 50 km from Krakow. Attractions include fairytale land, extreme zone, water park, dragon town.
Energylandia during the covid lockdown in Poland – please check their website for updates.
Photo source: Energylandia 
Subscribe to our monthly newsletters in English to explore Poland and to learn about Poland! Once a month you will receive a Newsletter: 'Explore Poland with Kids'. You will find there family-friendly destinations in Poland – beautiful places in Poland worth visiting with children – from city break destinations to hiking in the mountains (lots of practical tips!); things you can't miss in Poland in a given month; dates to remember, holidays, observances in Poland in a given month so you can mark your calendars accordingly.
Click on the photos below to read other posts: