The Asthma Society of Ireland's Safetycare campaign, which lifted top honours at the Irish Healthcare Awards, benefited from coverage in social and traditional media. Peter Doyle reports
"To me, I think it underpins everything we do."
Sarah O'Connor, the chief executive of the Asthma Society of Ireland, is talking about the importance of patient lifestyle education.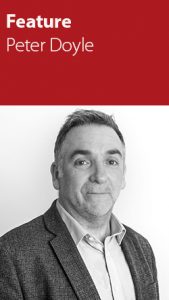 It is a topic on which O'Connor can justifiably claim to have substantial knowledge, after her organisation's Safetycare campaign was named the Patient Lifestyle Education Project of the Year at the Irish Healthcare Awards.
Sponsored by health insurance firm VHI, the award recognised the society's efforts to warn asthma suffers of the dangers associated with the overuse of reliever inhalers – while also encouraging people with the lung disease to put an Asthma Action Plan in place.
"We want to be an organisation that kickstarts that conversation for people, where they realise, 'wait a second, I am not doing as well as I should be, there are some risks or dangers inherent in that and I need to tackle this'," O'Connor told Irish Medical Times.
"And when a patient has a chronic illness, that's really important because they can often get blasé, or used to that illness, and sometimes people can ignore the fact that their symptoms are quite serious – and they really need to act on it."
"A campaign like Safteycare allows you to help people see their own lifestyle for what it is, and to realise they need to take action," she added.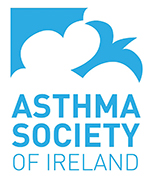 It was shortly after the Global Initiative for Asthma (GINA) updated its asthma management guidelines in 2019 that Asthma Society decided the Irish public required more information about inhalers.
According to GINA, the use of three or more reliever inhalers a year was an indication that a person was at risk of an asthma exacerbation; while the use of 12 or more reliever inhalers was an indication that a person was at risk of an asthma-related death.
Research carried out by the Asthma Society and pollsters Health Market Research, shortly after the GINA guidelines were published, showed that seven in 10 people in Ireland diagnosed with asthma were using three or more reliever inhalers a year, while three in 10 used more than 12 reliever inhalers a year.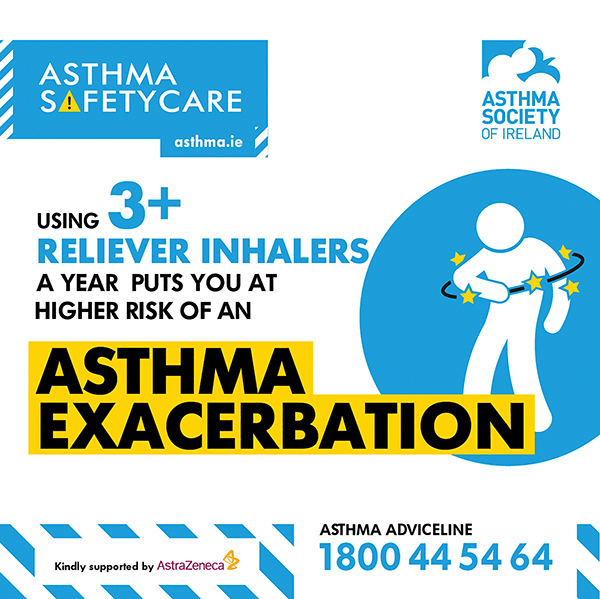 The findings were grim, and in response, the Asthma Society launched the Safetycare campaign in February 2020 to raise awareness about overuse of short-acting beta-agonists inhalers among the 380,000 people living with asthma in Ireland.
"This campaign allowed us to show people that, on the one hand, your medication can alleviate your symptoms, but if you are constantly moving from alleviation to alleviation on a day-to-day basis, this means that your symptoms are not controlled, and that means that your asthma is a serious problem," O'Connor noted.

The publicity campaign also wanted to highlight that reliever inhalers were for emergencies only, and anyone using them more than twice a week should ask a healthcare professional for advice.
People with asthma, the society said, should continue to carry their reliever inhaler with them at all times in case of an asthma emergency; controller inhalers, meanwhile, should only be used as prescribed by a healthcare professional.
Sound advice indeed, but Safetycare's success was always going to hinge on how much publicity it could generate – no easy task given that health-related matters have been dominating the headlines for the past 12 months.
An intensive social media campaign (with eye-catching graphics to illustrate the key message from the new GINA guidelines) was subsequently launched – and thanks to a hard-hitting video shown on Facebook, it began to gain traction, with the coverage culminating in a front-page story in the Irish Independent.
The national broadcast media also covered the campaign, with Safetycare items broadcast on both Virgin Media News and NewsTalk.
In total, Safetycare, through a combination of online, broadcast, print and digital media achieved a total potential reach of 26,903,329 views – a figure which has been verified by two separate media monitoring firms, Rue Point Media and Meltwater.
The top print hits, aside from the Irish Independent front page, included stories in the Irish Times, Irish Examiner and Irish Daily Mail.
In the digital sphere, the Safetycare social media engagement reached more than 150,000 people; and a Facebook Live item featuring the Asthma Society's Medical Director Dr Marcus Butler received over 19,300 views between February and August last year.
At the same time, the Asthma Society's website, www.asthma.ie, was proving popular with 2,542 people visiting the site's Safetycare page last February, resulting in 777 Asthma Action Plan downloads – an impressive 230 per cent increase on the previous year.
The Society's adviceline, meanwhile, recorded a 30 per cent increase in calls shortly after the Safetycare campaign was launched.
O'Connor said she was delighted with the response the campaign received, but also admitted to a slight surprise with its success.
"I've been with the Society for three years now. Lifestyle campaigns are huge portion of our work, and a lot of them have been very well-received, yet this campaign was really a standout piece of engagement," she said.
"A number of months later, I still had healthcare workers talking to me about it, and how it made them reassess a number of their patients, and how it made them ask some questions differently to understand where their patients were really at."
The response from patients has also been wholeheartedly positive.
"We were astonished by the level of engagement we had immediately and even months later people were saying they went back to their general practitioner and spoke to them about an article they had read, or a news piece they had heard at the time," O'Connor added.
"We obviously provide one-to-one services directly to patients through a number of different mediums, but we can't reach every patient in Ireland using those – we simply don't have the capacity to do that.
"Safetycare really helped people do a little bit of stock-taking and say to themselves, 'no I am not really happy with where things are at just now, and I want to improve this'. And have a sense of urgency about that. And that's quite an unusual thing in healthcare engagement."
As for the honour the Asthma Society received at last December's Irish Healthcare Awards in recognition of its campaign in Patient Lifestyle Education, O'Connor said: "We were delighted. It is really lovely when you do a really good piece of work and really connect with people – but it is also lovely when your peers and fellow healthcare professionals recognise it."